The GRP of the Kostanay region in 2018 amounted to 1.4 trillion. tenge (the share of the region's GRP in the GRP RK was 3.5%). Among the regions of Kazakhstan in terms of GRP, Kostanay region is in 10th place.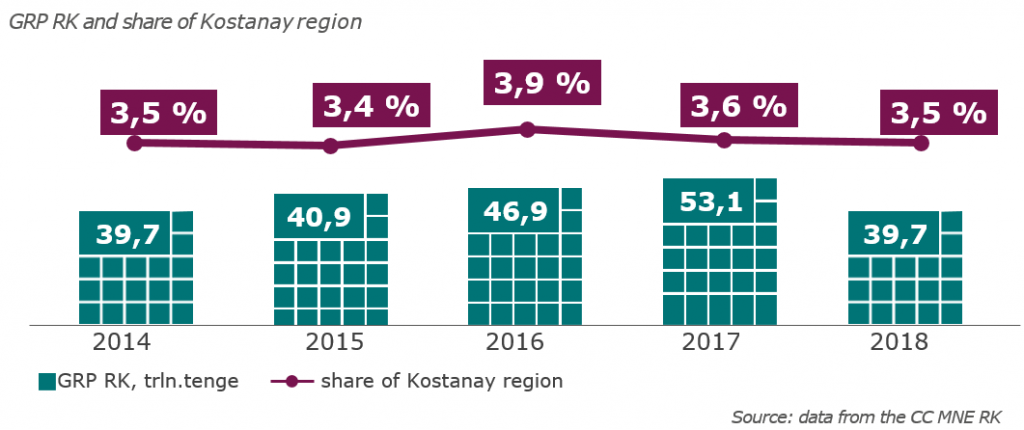 In the structure of the GRP of the Kostanay region, services account for 65.1% or 988.2 billion tenge, for goods - 34.9% or 529.7 billion tenge. At the same time, in GRP by goods, the largest volume fell on industrial production - 72% or 361.3 billion tenge, the share of agricultural products was 28% or 140.2 billion tenge.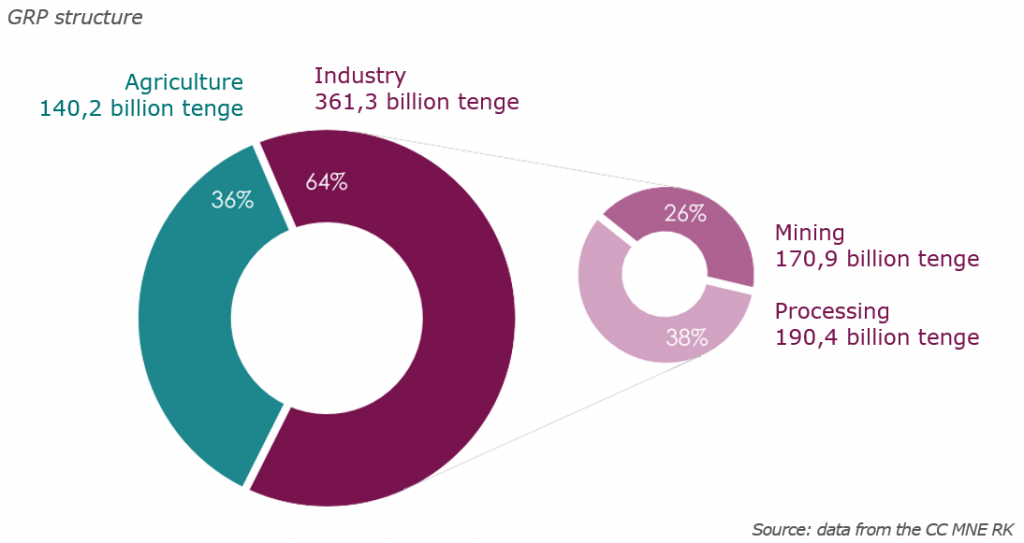 Agriculture

In agriculture, as in the second leading branch of the region, gross output amounted to 140.2 billion tenge, an increase of 8.9%. The main volume falls on crop production - 258.2 billion tenge. The number of goats increased by 1.8%, cattle - 0.3%, while the number of horses decreased by 1.2%, sheep - 1%, poultry - 1.3%, pigs - 11%.

To achieve sustainable growth of the agricultural sector, the region plans to introduce modern technologies and progressive farming methods, optimize the structure of sown areas and crop rotations in order to increase the productivity of agricultural land, ensure the availability of breeding products for agricultural producers, and organize medium and large-scale animal production.

Crop production

In 2018, in the region, crops were placed on an area of ​​5.1 million hectares, of which cereals (including wheat) - 4.5 million hectares, fodder crops - 637.9 thousand hectares, oilseeds - 429.7 thousand. hectares, corn for food - 20.7 thousand hectares, potatoes - 9.7 thousand hectares, vegetables and melons - 89.6 thousand hectares.





Livestock

As of 2018, the cattle population amounted to 444.8 thousand heads, sheep and goats - 444 thousand heads, horses - 109 thousand heads, pigs - 161.2 thousand heads, birds - 4.1 million heads.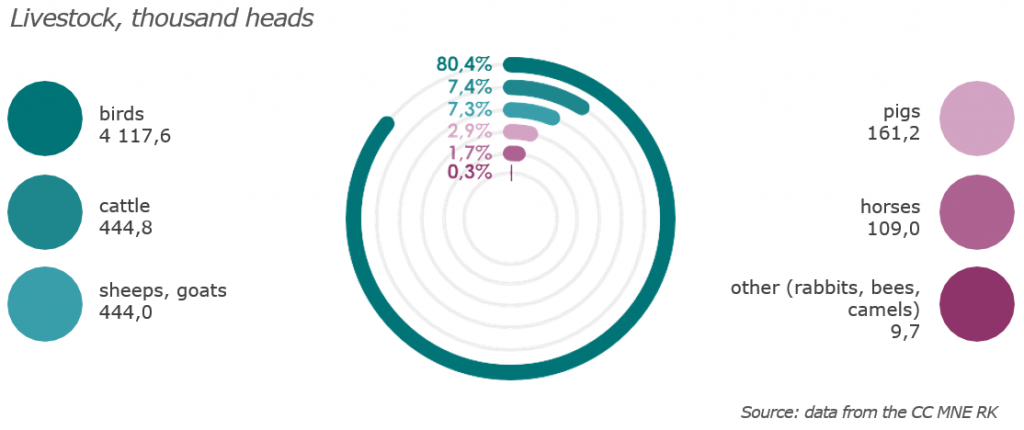 Industry

In the region in 2018 industrial products were produced for 361.3 billion million tenge, the physical volume index was 108%.

In the industrial structure of the region, the share of the mining industry was 40.3%, manufacturing - 52.7%, electricity - 5.5%, water supply –1.5%.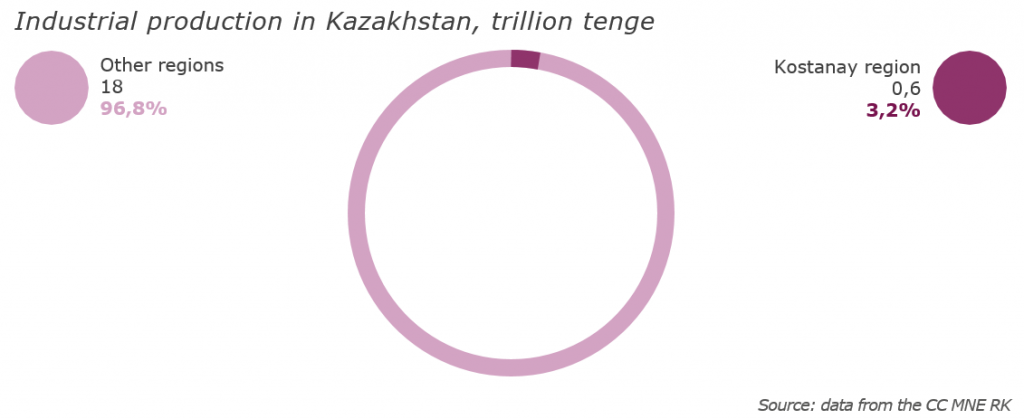 Compared to 2017, industrial production increased due to growth in the production of processed products - asbestos production increased by 7.1%, pellets - 3.1%, bauxite - 2.6%.

At the same time, in the mining industry, production, by contrast, declined (IFO - 104.6%). The production of iron ore concentrates decreased by 20.4%, copper concentrates - 2%, gold mining ore - by 20.9%, iron agglomerated - by 11.4%.





Manufacturing enterprises produced goods for 190.4 billion tenge, IPV - 106.7%.

At the same time, the growth in machine building was 4%. The production of cars for transportation of 10 and more people decreased by 51.2%, bread - by 3.6%, passenger cars - by 2.4%